42º FESTIVAL INTERNACIONAL DE TEATRO DE BADAJOZ
BADAJOZ 42nd INTERNATIONAL THEATRE FESTIVAL
October from 18th to 30th
"THE SILENCE OF ELVIS" – EL VODEVIL
Friday October 18th, 21:00 h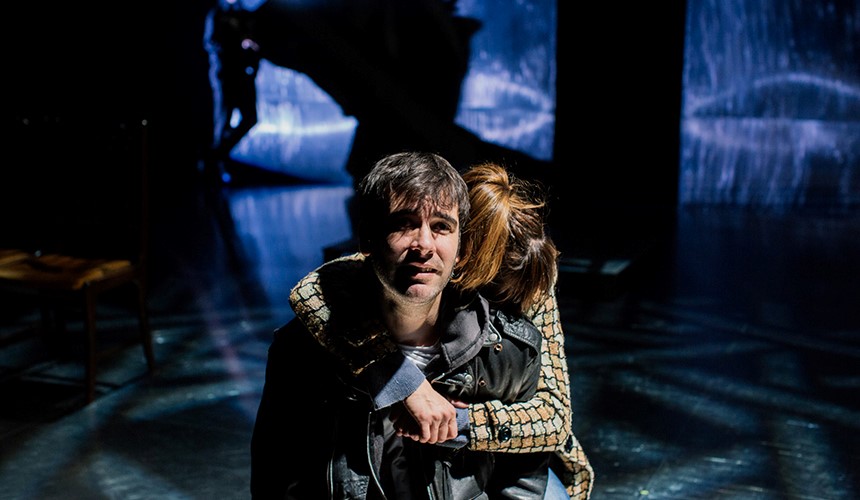 Company:

El Vodevil (Madrid)

Written and directed by:

Sandra Ferrús

Cast:

Pepe Viyuela, Sandra Ferrús, Elías González, Susana Hernández and Martxelo Rubio

Synopsis:

Vicentin is a boy diagnosed with schizophrenia. He is very cheerful, loves to sing and dance. The soul of Elvis burns inside of him. His gift is to know what people are going to say, his desire, to compete in all TV reality shows. His cross to bear, and that of his family, is a mental illness in a country undergoing an economic crisis. A cocktail of ancestral emotions, where the stigma and fear of the unknown, of the uncontrollable, destabilizes our society, imprisoning and pressuring our young protagonist to the limits of family decomposition, in an untiring search of a medical solution.

Duration:

90 minutes
"WEDDING OF THE DEAD" – SIETEATRO PRODUCCIONES
Saturday October 19th, 21:00 h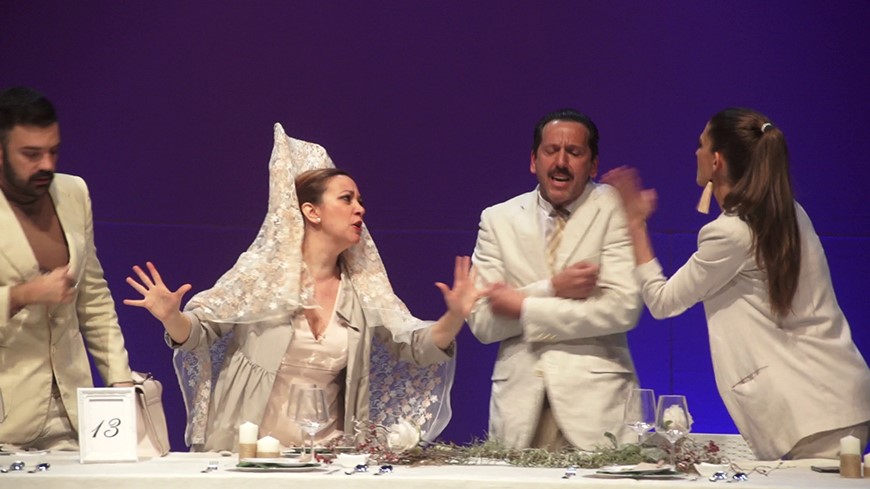 Company:

Sieteatro Producciones (Madrid)

Written and directed by:

Pablo Canosales

Cast:

Esperanza Candela, Bosco Fernández, Sara Mata, Víctor Nacarino and Txabi Pérez

Sinopsis:

A surrealist comedy about the weight of the family in everyday life. A wedding that submerges the characters in endless qualms and stormy bickerings. They have been summoned by an absent protagonist who has set them a trap and will not show up to save them. An emotional journey in the form of comedy that takes us to a commonplace wedding hall and, as we progress through the menu, we witness the decadence and resurgence of each of the wedding guests. A work that tackles the phenomenon of family relationships with irony and sarcasm.

Duration:

80 minutes
"UNEXPECTED HOMAGE" – LA ESTAMPA TEATRO
Sunday October 20th, 21:00 h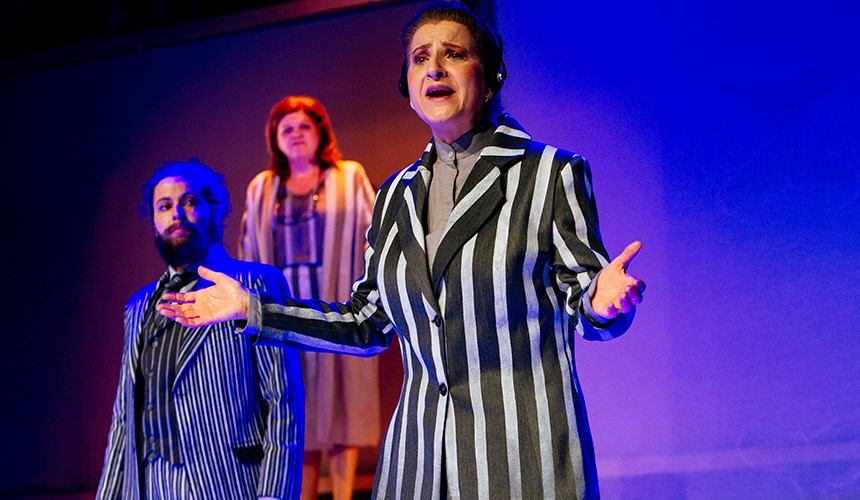 Company:

La Estampa Teatro (Extremadura)

By

Concha Rodríguez

Cast:

Laura García, Ana Franco, Concha Rodríguez and José María Galavís

Synopsis:

A reflection on the business structure of our society and its human relations, strongly linked to high tech as it is applied to control and surveillance. Women at all levels have to deal with a large solid glass roof impossible to break. The seating area of the theatre becomes the target of power. It is controlled by cameras, subject at all times to all-purpose surveillance. Spectators have to check in as they enter the theatre, thus becoming employees of the ominous power structure. Sitting alongside spectators is Esperanza, our main character. Then appears the character of Seguro, the security guard that curtails any attempt at privacy. Obsessive urge to control and ways to avoid it leads to comedy.

Duration:

80 minutes
"A GOOD DEATH" – TEATRO DE LOS ANDES (BOLIVIA)
Monday October 21st, 21:00 h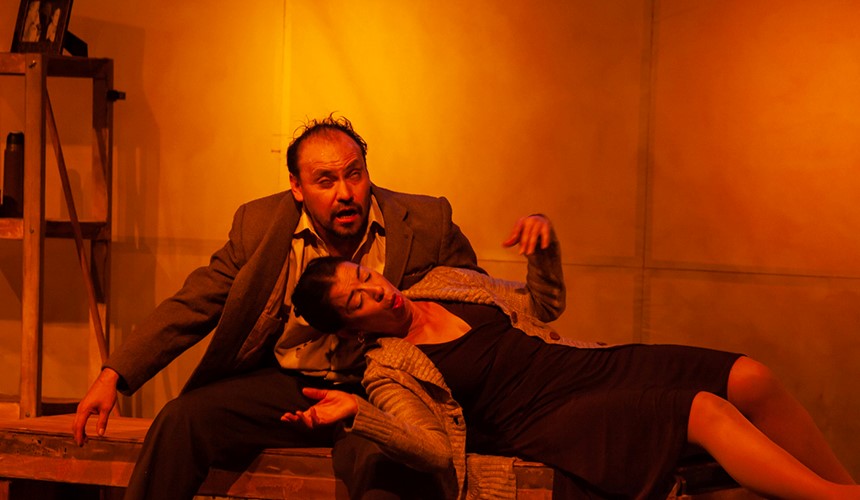 Company:

Teatro de los Andes (Bolivia)

Original idea by

:

Teatro de los Andes y Álex Aillón

Direction:

Elías Cohen

Cast:

Alice Guimaraes y Gonzalo Callejas

Synopsis:

Human exploration of love and death, encounters and misunderstandings of a couple of actors. It is a fragmented montage with a mixture of different stage languages, reflecting an intimate universe in which words and images, sometimes luminous and sometimes dark, navigate and shipwreck. It is the story of a couple of actors who share their last breakfast before dawn. A surreal breakfast, full of smells and memories of the past that mark the history of a mature couple.

Duration:

60 minutes
"THE SECRET LIFE OF PETRA LEDUC" – DE AMARILLO PRODUCCIONES
Tuesday October 22nd, 21:00 h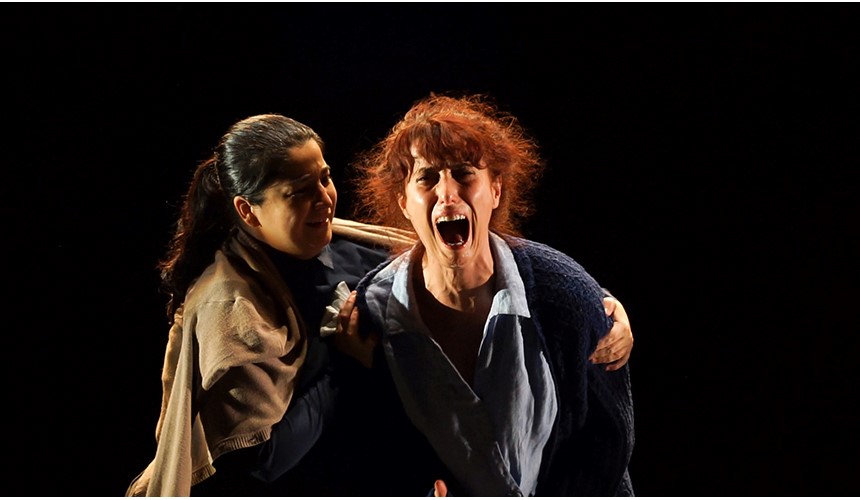 Company:

Creaciones Escénicas Efecto Kepler y De Amarillo

Producciones (Extremadura)

Dramaturgy and direction:

Meme Tabares

Cast:

Maite Vallecillo, Nuqui Fernández y Jorge Barrantes

Synopsis:

Inspired by the life of Camille Claudel, "The secret life of Petra Leduc" tells the story of a sculptor who was also been locked up for years in a madhouse. A medical committee (the public itself) is summoned to assess the mental state of the patient for possible discharge. Just then begins the story of "The Secret Life of Petra Leduc". Through her experiences and emotions, we will discover the reasons for this confinement. The voice of all the artists whose lives and works have remained in the ditches. Forgotten, ignored and execrated for burning desks, altars and nuptial thalams. All of them, like our Petra, paid a very high price for this affront: "They have insulted and humiliated me; they have ridiculed me; they have laughed at me; they have persecuted me, they have raped me; they have never asked me what I think or what I want; they have tortured me, they have ripped my skin to strips and they have burned me every time I have stood up and shouted my name. My name is Petra Leduc, I exist and I am a sculptor. And I have a life to tell." Such are Petra's words.

Duration:

56 minutes
"RUNNING OR FADO"- QUORUM BALLET
Wednesday October 23rd, 21:00 h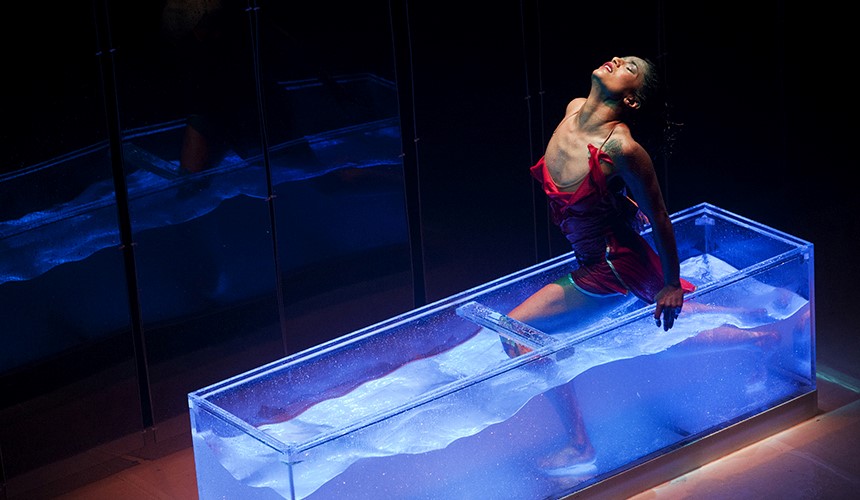 Company:

Quorum Ballet (Portugal)

Art direction and choreography:

Daniel Cardoso

Dancers:

Daniel Cardoso, Fernando Queiros, Filipe Narciso, Pedro Jerónimo, Inês Godinho, Margarida Carvalho, Mariana Matos e Beatriz Graterol

Synopsis:

Fado is the most representative form of expression of traditional Portuguese culture. In a multitude of movements, sounds, sensations and feelings, the dancers convey to us their art, extreme beauty, incredible sensitivity and apparent ease, everything that our senses perceive and our heart apprehends. It demystifies the longing and melancholic connotation that Fado carries.

Duration:

70 minutes
"BEEP BOOP" – CROWDED OUTLET
Thursday October 24th, 21:00 h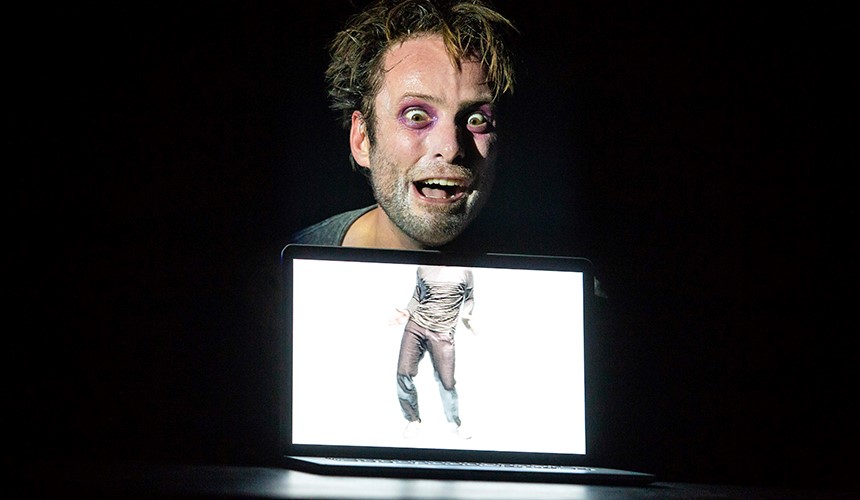 Company:

Crowded Outlet (Estados Unidos)

By

Richard Saudek

Direction:

Wes Grantom

Cast:

Richard Saudek

Synopsis:

A mime and physical theatre show by a single performer with a live digital sound landscape, exploring society's obsession with online life through our smartphones and other digital devices, always in close proximity. With a grotesque physical appearance, the sunken eyes and pale skin and comic behaviour of the protagonist reveal the depth of his addiction to digital screens. We are transported on a journey with the protagonist that is both fun and full of chilling recognition. We join him through the minutiae of daily life and observe him in a fishbowl, observing under uncomfortable scrutiny the fruitless and claustrophobic relationship he has -which we all have- with modern technology.
Beep Boop is a dark and whimsical clown show inspired equally by the masters of the silent film era and the peculiarity of vaudeville, performed at a dizzying pace with live sound effects, original music and multimedia. It deals with the crushing loneliness of modernity and its amusing consequences.
"STAR" - MARIE DE JONGH
Friday October 25th, 21:00 h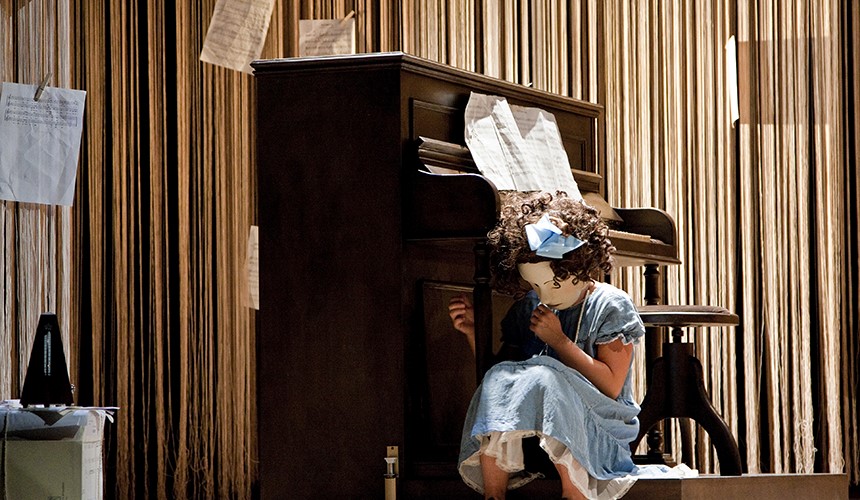 Adult theatre for children and children's theatre for adults (from 6 years old onward)

Company:

Marie de Jongh (País Vasco)

Dramaturgy and direction:

Jokin Oregi

Cast:

Anduriña Zurutuza, Javier Renobales, Ana Meabe, Ana Martínez

Synopsis:

A través del teatro gestual se cuenta la historia de Izar, una niña de apenas seis años, que va camino de convertirse en una pianista de fama mundial. Gracias a una férrea disciplina a la que le someten sus padres, su virtuosismo ha alcanzado unos niveles prodigiosos para su edad. Izar es una estrella feliz. Tanto, que no querría crecer nunca. Pero la vida, azarosa y caprichosa como una niña malcriada, le depara otro destino, un laberinto emocional inesperado del que solo podrá salir guiada por otra estrella, pero no una estrella cualquiera, sino una estrella de mar.

Duration:

50 minutes
"CUSTODIANS" - ASACO PRODUCCIONES/ HERMANOS SAQUETTI
Saturday October 26th, 18:00 h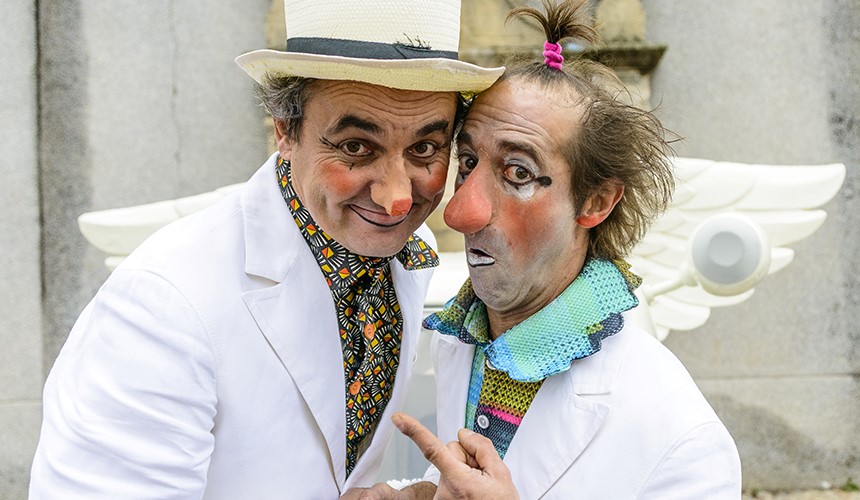 Street theatre
Company:

Asaco Producciones (Extremadura)

Direction and dramaturgy:

Andrés del Bosque

Cast:

José Maestro & Javier Ceballos (Hermanos Saquetti)

Synopsis:

The Saquetti brothers put the public to the test with a show inspired by street vendors and the classic saying "Life is beautiful". They show the virtues of these guardian clown angels and hold a bidding auction to give one of those present a custodian to practice with. Pantomime, music and a lot of laughter aimed at a universal audience with the motto: "Kill the hatred, buy yourself a guardian".

Duration:

45 minutes
"THE NAME" - GL PRODUCCIONES
Saturday October 26th, 21:00 h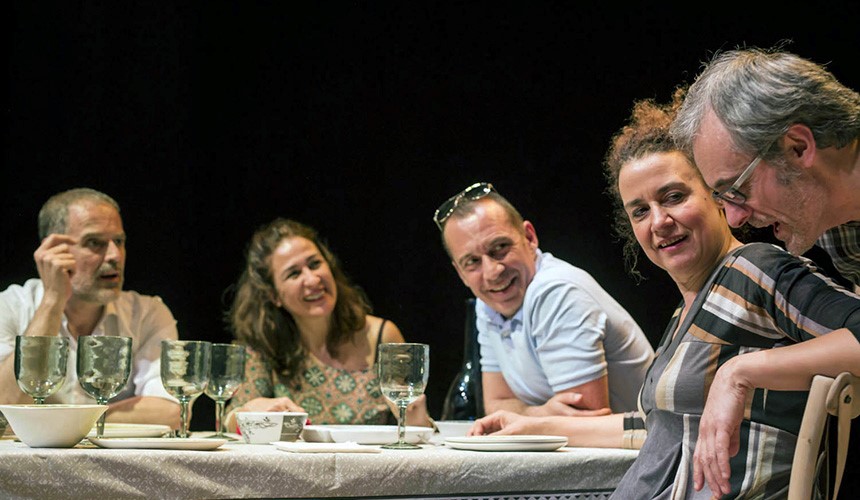 Company:

GL Producciones (Andalucía)

Written by

Matthieu Delaporte y Alexandre de la Patellière

Direction and adaptation:

Daniel Veronese

Cast:

Gloria López, Pedro Morales, Jesús Calvo, May Pascual y Orencio Ortega

Synopsis:

Five characters in a room, a family, a friendly reunion. Suddenly, things become rarified. It all starts when the name of a baby, yet to be born, must be chosen. "The Name" talks to us about the FAMILY institution, the family in capital letters, the family in all its complexity: desires, fears, hidden and silent speeches, words spoken out loud and as always, surprises lurking behind appearances. When the father-to-be proposes his chosen name, his choice leaves everyone speechless. A living, real, delirious, emotional COMEDY, where taking sides for something or someone is the perfect excuse to vent our deep human dissatisfaction, exposing the real problems of its protagonists.

Duration:

95 minutes
"PEDRO DE VALDIVIA, THE UNFINISHED CONQUEST" – TRYO TEATRO
Sunday October 27th, 21:00 h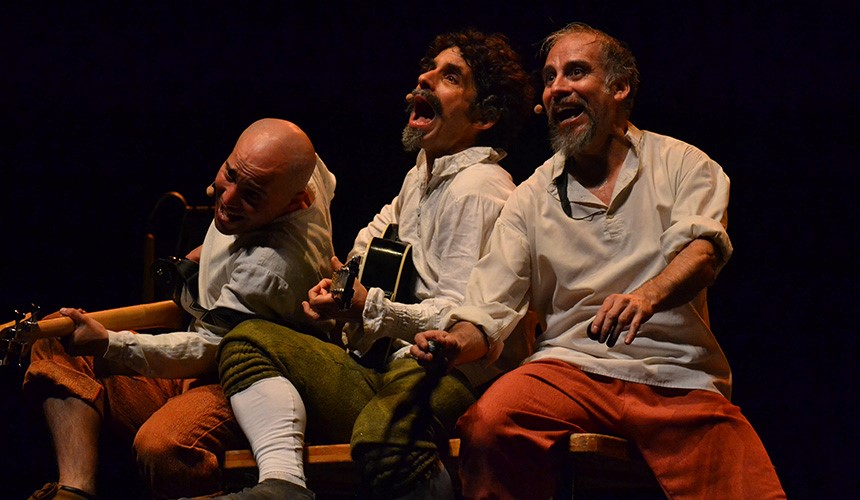 Company:

Tryo Teatro Banda (Chile)

Written by

Francisco Sánchez

Direction:

Sebastián Vila

Cast:

Francisco Sánchez, Alfredo Becerra, Diego Chamorro

Synopsis:

Vibrant minstrel show, which runs through the early years of the conquest of Chile, from the arrival of the Spanish captain Pedro de Valdivia in 1541 until his death in 1553, using as a plotline the letters that the Spanish conquistador regularly sent to the king of Spain Charles V. Three actors-musicians narrate the enormous difficulties that the conqueror, endowed with a great military capacity, had to face in his attempt to subdue the Mapuche people, the natives of these lands, and the way in which his ambition prevented him from recognizing the value and intelligence of one of the emblematic peoples of the indigenous resistance to the Hispanic invasion. With more than 20 musical instruments on stage (bandoneon, accordion, Chilean guitar, trombone, electric bass, mandolin, charango, percussion, etc.), this work achieves a perfect synchrony between music and theatre, and history.

Duration:

75 minutes
"THE LIFE OF THE SALMON" – KARLIK DANZA TEATRO
Monday October 28th, 21:00 h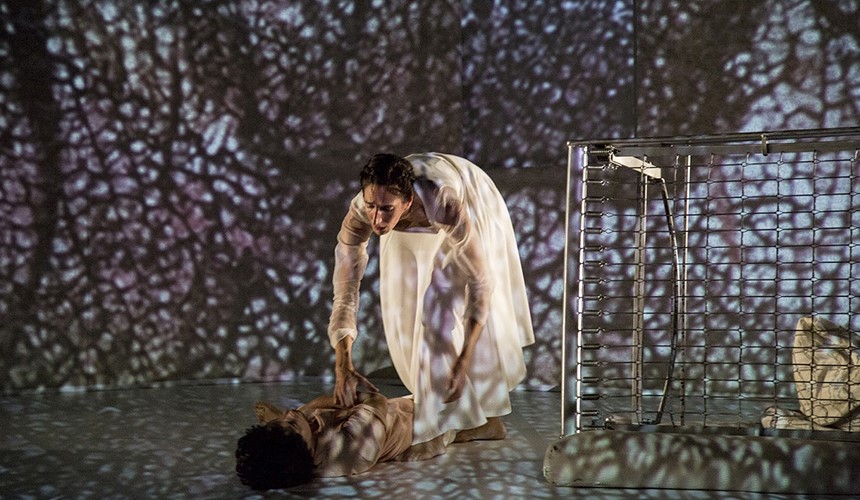 Company:

Karlik Danza Teatro (Extremadura)

By

Itziar Pascual - Premio SGAE teatro infantil

Direction and choreography:

Cristina D. Silveira

Cast:

Cristina Pérez Bermejo, Chloé Bird, Elena Rocha

Synopsis:

For seven nights in August, from dusk to dawn, somewhere between reverie and memory, Adrienne and Aura, a woman and a girl, find themselves at the moment of turning off the light to sleep. At that moment the shadows grow and the fears slide down the walls. Everything frightens, everything restless. But Adrienne, Aura and the dancer who accompanies them, dancing their dreams and defying the monsters, will travel together a path that will give them peace. Night after night, they gather in Aura's room, in that magical moment that is the end of the day, to imagine, create, sing, count and remember. And every night they learn something new that they didn't know before, about the world and themselves.

Duration:

60 minutes
"WATER GHOSTS" – GALA TEATRO
Monday October 28th, 23:00 h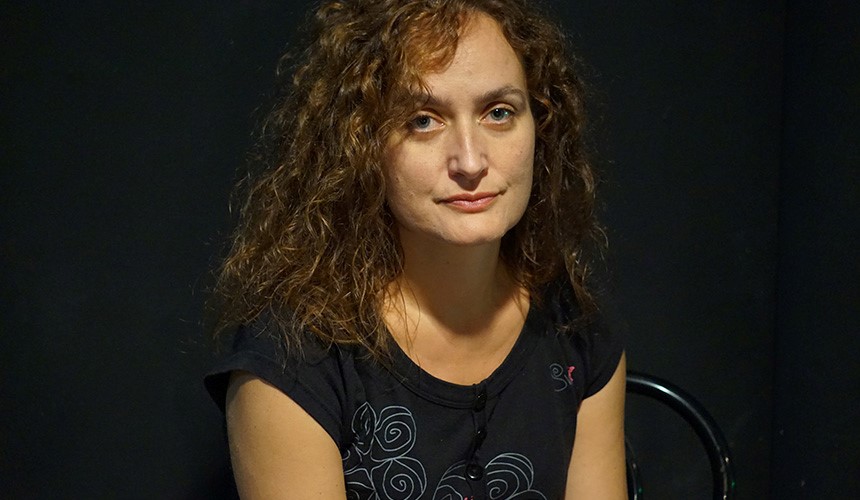 Basement
Company:

Gala Teatro (Extremadura)

Direction and text:

Virginia Campón

Cast:

Esther Gala

Synopsis:

"Water ghosts" tells the story of Aisha, a heroine who struggles against her destiny to reach the Mediterranean. The hope of reaching a new world she imagined as a child. This Alice in Wonderland will fight against the designs of a future written from the beginning and will become a ghost that wanders along the shore of the beach that has flooded her body.

Duration:

90 minutes
"THE BUSCONA" – TRASTERO 203
Tuesday October 29th, 21:00 h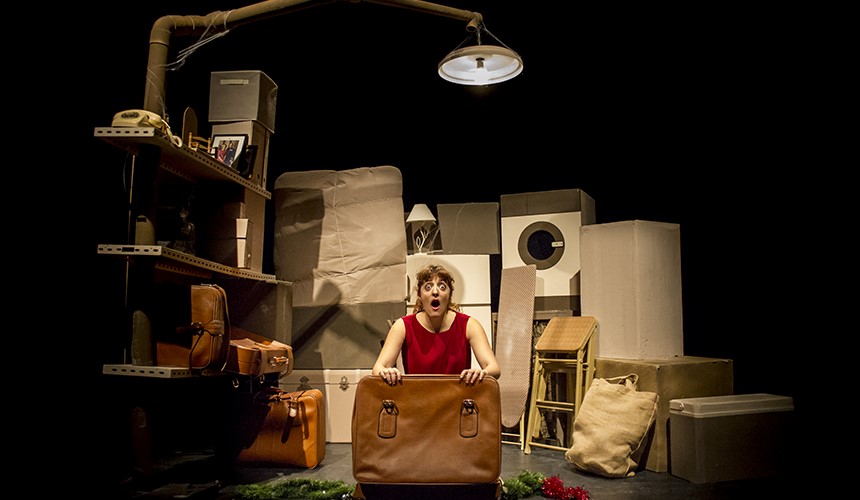 Company:

Trastero 203 (Andalucía)

By

Mercedes Reyes e Isa Ramírez

Direction:

Isa Ramírez

Cast:

Mercedes Reyes

Synopsis:

The buscona desperately needs the dress her mother sewed for her when she was a teenager and never wanted to wear. As she shuffles in her family's storage room, the protagonist will be enveloped in the lives of other women who, in an attempt to achieve what they don't have and what they want, will "prostitute themselves" in their own way, sharing with the public their yearnings and their eccentricities. The irremediable sufferer without a name, the hardened romantic, the saint, the fantasy and hunter of men, the spiritual rejected... All of them with their own search and with one in common: that of self-love.

Duration:

80 minutes
"WHAT IS LOVE? BABY DON'T HURT ME" – WICHITA CO. & A+ SOLUCIONES CULTURALES
Wednesday October 30th, 21:00 h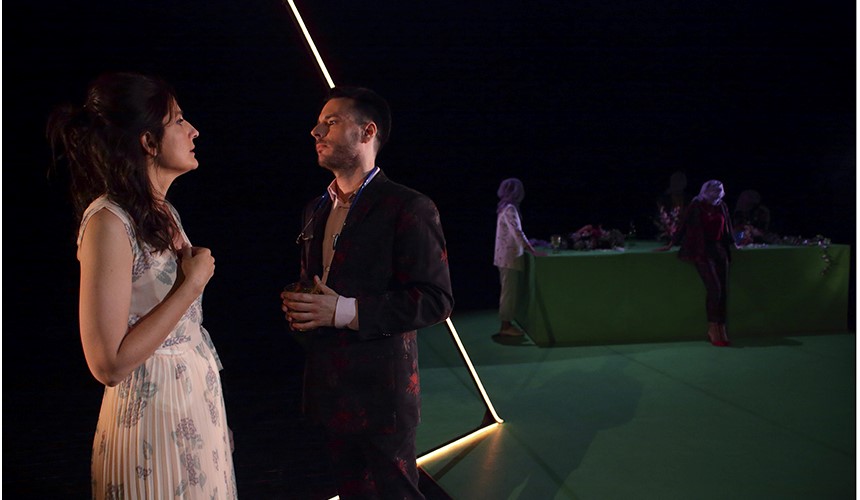 Company:

Wichita Co. & a+ Soluciones Culturales (Valencia)

Free version of Ivanov by Chekhov

Text and direction:

Víctor Sánchez Rodríguez

Cast:

Antonio Escámez, Cristina Fernández, Julián Hackenberg, Román Méndez de Hevia, Laura Romero y Silvia Valero

Synopsis:

There's a wedding today. A wedding is the celebration of love. Ivanov is going to marry Alejandra, the girl who fell madly in love with him. Ana, his former wife, died after a long illness that Ivanov did not take care of. Eugenio, the doctor, who was in love with Ana, tries to unmask him in front of all the guests. Barbara, a young widow, looks for pleasure to alleviate her loneliness. Something similar happens to Miguel, Ivanov's only friend, who doesn't stop crying. Ivanov is the gravitational center of beings who try to find love and meaning in life. But Ivanov only feels an atrocious melancholy, a laziness ... and a desire to take his life. "What is love? Baby don't hurt is" meant to be a reflection on love, neurosis and its emptiness. It is the first work of Chekhov Province, a project with which the company Wichita Co aims to stage free versions of all the works of Anton Chekhov.

Duration:

90 minutes
DRAMATIC INTERPRETATION, DIRECTION AND WRITING WORKSHOP
By Víctor Sánchez Rodríguez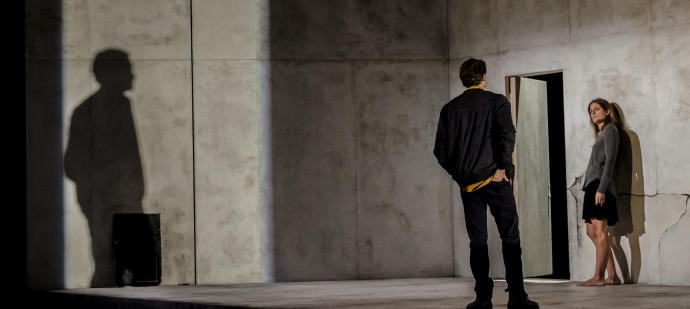 Víctor Sánchez Rodríguez
Winner of the XIX Max Awards in the category Best New Authorship for We Will Not Kill Ourselves with Guns.
Degree in Direction and Dramaturgy from the Institut del Teatre de Barcelona. He complements his training at the Obrador de dramaturgia de la Sala Beckett in Barcelona with José Sanchis-Sinisterra, Paco Zarzoso, Joseph Danan (Dramatic writing and stage performance), April De Angelis (Royal Court of London) and Alejandro Tantanian (Panorama Sur 2013; Buenos Aires).
He develops his career mainly as a playwright and director of his own texts premiered with the label of his company, Wichita Co. His most relevant works as a director and playwright are Uns amors, uns indrets; Cavalls salvatges no m'arrancarien d'ací, awarded the INJUVE Prize for the best scenic proposal of 2011; Escritos desde el fuego (Special Accésit Beca Desperta); We will not kill each other with guns and Cuzco.
THE CHARACTER IN THE LEGS
I had a teacher during my training in Stage Direction and Dramaturgy who always said: "the French, when an actor manages to "be" the character and not "make" the character, they say he has the character in his legs". To be honest, I don't remember the teacher or the moment. Memory, as well as selective, is capricious. But what stuck in me about that teaching continues to accompany me in each staging.
When an actor manages to incarnate a character in such a way that the lines between reality and fiction become blurred, he has done work so arduous and profound that the results cannot be seen in superficial features such as a certain way of speaking or walking or sitting. The process of incarnation is the most artifical work there is, since only through artifice can one achieve the truth in art and, to paraphrase Wilde, the most difficult pose of all: "naturalness". For this reason, only when an actor has done his homework has he used his imagination from the clues he finds in the text, he has prepared himself so much that he can stop paying attention to himself and listen to his companion; only then does he manage to get the character down from head to toe. And then he can walk around the stage simply "being".
In this workshop we will try to get closer to the way I face the direction of actors from the work on texts of my plays "We will not kill each other with guns", "Cuzco" and "La Florida".
Subir